Servaas Verbrugge

Servaas C. Verbrugge (1970) is the editor and the founder of airlinerlist.com. Fascinated by commercial air transport since a trip to the USA in 1979-1980, he has been spotting, gathering material about aircraft and working on production-lists since he was 10 years, first on bookkeeping-papers and by computer since 1989. Luckily he could convert all the stuff into Excel-sheets, so some of the material has been compiled more than 10 years ago. He likes to travel, fly on his favourite and/or obscure planes. Proudly he can claim to have flown Constellation, DC-3, DC-4, DC-6, DC-7, DC-8, C-46, Viscount, Electra, Convair 580, Boeing 707, 720B, Il-14, 18, Bac 1-11, Il-62, Il-76, Il-86, Casa 212, 235, YS-11, HP-137, Grumman Mallard, DHC-4, G-2 , IAI Westwind along with most modern airliners. High on Servaas' regret list are Caravelle, Nord 262, Fairchild 27 and Concorde.
He doesn't work in the aviation-industry (although he used to load cargo at Schiphol when he still was student) but he is self employed as a small business advisor and lives and has an administration office in Amsterdam.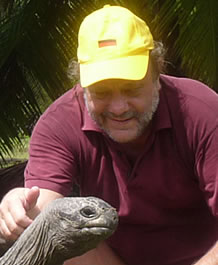 Werner Fischdick
Werner Fischdick (1952) is a major contributor to this site since 2006. He lives in Germany and has retired in 2018 from his work on a highschool. He shot and collected a vast aviation photo collection over 3 decades, and has also been compiling production lists for years. He is now responsible for the updates in general of most of the biz jets. He updates BN Islander, Cessna Caravan, Pilatus PC-12 and bizjets like the BAe/Raytheon, Gulfstream and IAI's with more to follow.
Other contributors
Aart Langevoort (1965) was a major contributor to this site between 2000 and 2014.
He lives in Heemskerk, The Netherlands, and works as a supervisor in the offshore industry for construction works on gaz platforms. He has a son. He has also been compiling production lists for years.
Paul van Vliet (1958) is an editor for this site since october 2002. He started spotting on Maastricht-Aachen Airport somewhere in the 70s. Going on his bike to look at the CL-44s, DC-8 of Air Spain, Caravelles of Transavia and the Boeing 727s of Tunis Air. The interest in collecting registrations starts in 1984. The most beautiful aircraft for him is still the DC-8. He's married and has a daughter and a son. So a busy family life makes spotting a little more complicated then in the past. Today he works for one of the largest IT Companies of the world. Paul maintains the Tu134 and Tu154 lists on this site. E-mail Paul
Laurent ten Hoopen provides detailed an flawless correction lists regularly

Giovanni Francisco Rodríguez Bravo from Bogota, Colombia contributed a lot of propliner lists around 2005-2007, like the DC-4,6,7, Lockheed Constellation and C-46. He is now a pilot and less involved in the website.
Further updates, information, hosting and photos kindly supplied by:

Kiyoshi Sato, Mayer Fallena, Karsten Heiligtag, Pierre Baumann, Gabor Kerekes, Bo-Göran Lundkvist, Phixer, Manuel Javorik, Thomas Noack, Pavel Barabas, Jos Vervoort, John Bax, Alexandre Alves Dias, Matthias Merzhauser, Yannick Delamarre, Martinus Iriks, Ricardo Morales Centeno, Antonio R Varela, Matt Kluck, Melvyn James, Jo Su, Henk Graafland, Christian Kamhaug, Alexander Lim, Marko Tarabanovic, Yannick Delamarre, Juliet Hewitt, Harro Ranter, Holger Ludwig, M. Kopczak, Rob Knapp, Andreas Keller, Rurik Enriquez, Vince Horan, Gil White, Richard Bakker, Rianne van der Sluis, Marc van der Zalm, Rene Sikkerle, Thomas Pohl, Dirk Gortzak, Arno Janssen, Laurent ten Hoopen, Daniel Gradwohl, Willem Westerhof, Henrik Nilsson, Koen Vugs, Ralph Walker, Radomir Zaric, Jan-Erik Andelin, Andrew Semon, Ton Jansens, Chris Delvaux, Gery Elis, Ralph Walker, Bob Daley, Julien Moerenhout, Andrew Ledingham, Alan Radecki, Björn Wittek, Gregory Zemla, Sebastian Popovsky, Guido Merkelbach, Micha Lueck, Thomas Klein, Dirk Foste, Franz Potzelsberger, Stewart Lanham, Bruce Campbell, Adrian Hochreutener, Panagiotis A Pietris and many others.
Webdesign: Marc van der Zalm, Marc-o-media.nl